CONCERTO DUO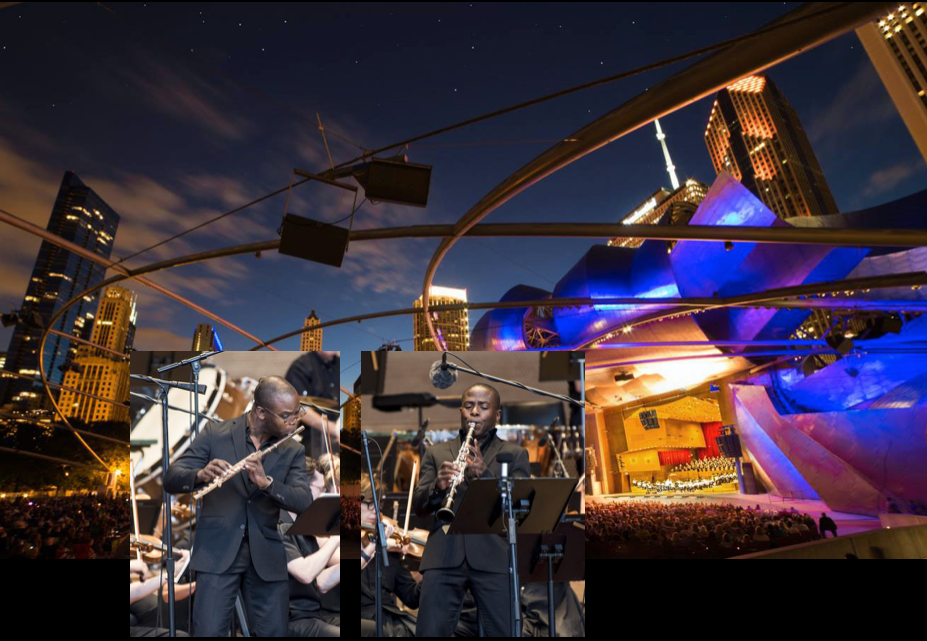 "In Concerto Duo, the soloists soar in intertwining dialogues, jazzy and lyrical. With its shimmering waves of Michael Torke-like post minimalism, "Concerto Duo" went down very easily

John Von Rhine, The Chicago Tribune
double concerto for flute, clarinet, & orchestra
21 minutes
commissioned by the Chicago Youth Symphony Orchestra for Demarre McGill and Anthony McGill
SCORING

2 flutes (2nd doubles picc)
2 oboes
2 clarinets (2nd doubles B. Cl.)
2 bassoons
1 contrabassoon (optional)

4 horns
3 trumpets
2 trombones
1 bass trombone
1 tuba

harp
piano
timpani

3 percussion: vibraphone, marimba, anvil, kick drum, glockenspiel, suspended cymbal, triangle

flute soloist
clarinet soloist

strings
PROGRAM NOTE

As I began work on this concerto for the brilliant brothers, Anthony and Demarre McGill, my thoughts naturally turned to family and childhood. To shared experiences and the joy of comradery and sibling rivalries. Although the entire piece is dedicated to the brothers, the movements take their inspiration from, and their dedications are given to, three very special toddlers.

The first movement carries the title, "Great American Scream Machine." Growing up in Atlanta, my folks used to take my sister and me to Six Flags over Georgia every summer. That park features the world's largest wooden rollercoaster, the Great American Scream Machine. Even as a child, I knew in my heart that it was probably a terrible idea to build a rollercoaster out of wood and an even worse idea to be proud of having the LARGEST one. Needless to say, this thing terrified me [and does to this day].

This movement is dedicated to Roya McAllister whose parents are my dear friends, Roshanne Etezady and Timothy McAllister. I first came to know Roshanne's music when we were in graduate school together. She wrote a fantastic piece about motorcycles [and life] for the Albany Symphony's Dogs of Desire project. I remember thinking, "That first measure is AWESOME!"

In December, Roshanne and Tim welcomed their daughter Roya to the world. I stole my memory of her first measure and created a two-minute opener for winds and percussion [commissioned by the Nebraska State Bandmasters Association] as tribute to her and a testament to little Roya to make sure she knows how cool her mom is. That original served as the basic idea for what became this movement. Roya, you are a lucky little girl!

If you have ever tried to put a toddler down for a nap, you will understand the sentiments behind the second movement. The image of the soft lullaby gently and smoothly soothing children to sleep seems ridiculous in the face of my nightly reality! My daughter fights sleep like a heavyweight prizefighter.

Our nighttime routine has become set in stone. I give her a bath, put her in her pajamas, and we read a book or two. And then we come to my favorite portion of the routine: the lullabies. Doing my part, I sing her slow lullabies while rocking her and she does her part, fighting the onset of sleep.

By far her favorite lullaby is the one my grandmother [MamaDee] used to sing to me: "Sail Far Away, Sail Across the Sea, Only don't forget to Sail, back again to me."

At least, I THOUGHT it was the one MamaDee used to sing to me. I got curious about the rest of the verses and found that the song was written in 1898 by Alice Riley and Jesse Gaynor and has only a passing resemblance to the song I remember MamaDee singing to me. Better yet, it has virtually no resemblance to the lullaby I had been singing to my daughter!

So this movement is both a journey of daddy trying to coax daughter to sleep and a journey of daughter enjoying the song, fighting sleep and eventually succumbing to slumber.

I have had this material in my head, virtually nonstop, since the day my daughter was born. Last year, I created a winds only version of that "lullaby" [commissioned by the Bole Cole Conservatory of Music, CSULB] as a gift for my daughter on her 1st birthday.

Following an extended introduction of the lullaby material by the soloists, you will hear the soloists take turns trying to coax the toddler to sleep only to be interrupted by the little stomps of a very tired and stubborn [but very cute] little girl. Approximately two thirds of the way through the movement a dramatic change over occurs where all involved [daddy and daughter] begin to succumb to sleep.

As the haze overtakes daddy and daughter, the lullaby appears in four-part canon, with half the orchestra singing and half the orchestra playing the lullaby then slowly dissolving into a sleepy A-flat major chord that is sung by the entire orchestra.

Happy birthday, little A.

The soloists emerge from this singing to begin the third movement by passing arpeggiations back and forth, slowly picking up more and more steam and launching into a sounds that are reminiscent of the cool breezes and sunshine of Southern California, which is the birthplace of Audrey Simonds's father. This movement is dedicated to the daughter of CYSO's own general manager, Joshua Simonds, who has been a sounding board and source of constant support throughout my time as CYSO's composer-in-residence.

Audrey, your Dad is a very special person.

Concerto Duo is dedicated to the amazing brothers, Anthony and Demarre McGill and their parents. They are all an inspiration and fantastic models for how to live as an artist and, more importantly, as a human. I am humbled and grateful to have them turn their attention to my notes.

Concerto Duo was premiered on Mother's Day 2012, in Chicago's Orchestra Hall by the Chicago Youth Symphony Orchestra with Anthony and Demarre McGill, soloists and Allen Tinkham, conducting.
RENTAL INFORMATION